There's been another epic jackpot win at Jackpot Capital! Our 'Virtual Vegas' seems to be in high spirits this new year, as we've already crowned our first big jackpot winner for the year 2017! Was it luck? A gut feeling? Or just plain coincidence? You never can tell in moments like these, but one thing's for sure, we've made one player very happy, so happy that he'll be laughing all the way to the beach! Isn't that the first place which comes to mind when you happen to fall into a sizeable chunk of change? Well, for our winner, Rasmus L., a young man from Sweden, that's exactly where he's headed off to (his girlfriend will surely thank him!). Keep reading for all of the juicy details on this big jackpot win, and maybe, you'll be motivated enough to be the next big winner!
Make a Jackpot Win - When You Least Expect It!
Let's be honest, no one ever 'expects' to make an epic jackpot win; if anything, players, alike, can only dream of hitting such a thrilling moment in their life. They can hope, dream, and hope some more, but never do they actually 'expect' for it to happen - That is, until it does! There was literally no expectation for young Rasmus L. when he sat down with his mobile one night, looking forward to playing a few rounds on the slots. The concept of 'luck' can be a funny one, as we all focus so much energy on the potential to be the 'lucky one'. And yet, so often, those who strike it big on the slots, are what could be called 'innocent' winners - They never had the thought of winning, but simply focused on having some fun. Take notes, fellow jackpot winner-wannabes!
Of course, any one lucky enough to hit the jackpot is exactly that - Lucky. There's been an ongoing debate of whether you can 'channel' the effectiveness of your own luck through positive thinking, or rather, if you forget the focus of striking it big, all together, this may yield the good vibes in your direction. Naturally there is no right answer to this, but one thing's for sure, you can't win if you don't play! Let's not focus on the many jackpot win theories out there, though, let's see how our winner feels! You can just imagine the excitement that fell upon Rasmus L. when he made a seriously epic win that day while playing one of our many progressive jackpot slots, Sevens and Stripes .
When we asked Rasmus L. about his playing style, preferences and if he has any 'secrets' he'd like to let fellow anticipating jackpot winners in on, the answers were straight and to-the-point. This player from Sweden has been having fun with us here at Jackpot Capital for some time, so given that, he was very familiar with our games and often joins in for some casual gameplay, when he has some extra funds to spare. What did Rasmus L. reply when asked if he had a certain playing or game preference? He responded that he'd often try out our new games, once released (we publish new games every month!) , but otherwise, he would play a little bit of everything, seeing if any specific game stood out to him. One comment he did make, is that he loves to try out the newest releases, as they often have exciting new feature types. For example, Rasmus L. specifically mentioned he loves our new Sweet 16 slot game, as it offers a unique morphing feature with all winning symbols. The beauty is in the details!
While the first question to any big jackpot winner is always, "is there any advice for how to win?!", we can all admit there is really no 'secret' to success with the slots - Although Rasmus did make one thing very clear! When asked if he had any tips of the trade, he replied very honestly, "Just go with your gut feeling!". That is, most definitely, the best piece of advice you could ever receive, whether it be when you are in hopes of making your next big jackpot win, or for any moment in life, really! When Rasmus L. made a once-in-a-lifetime epic jackpot win of $36,034, you can bet he was thanking his gut, with much praise!
Of course, the next question we had to ask, was "what are you going to do with your lump sum of cash?!" Rasmus L. knew right from the get-go what he planned to do, and it's likely what most of us would do: Head to the beach! Rasmus L. told us he is planning to take his girlfriend on a nice beach vacation in Spain, to soak up some rays and drink some of those potent Mojitos! We're sure his girlfriend will be more than happy for that decision, we would be, too! Given that he is from the slightly colder Swedish climate, we can see why this would be the first choice. Before you start planning your next beach vacation, remember, go with your gut!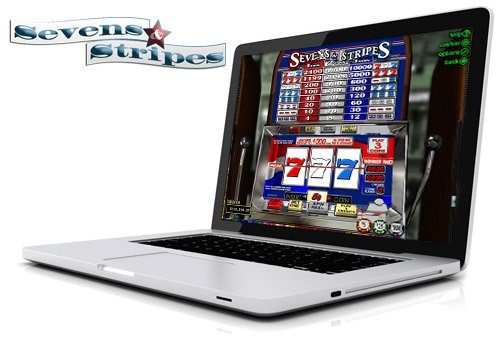 Keep It Simple: Sevens and Stripes!
The Sevens and Stripes slot game we have available here at Jackpot Capital is not an incredibly flashy game, actually, quite the opposite. With a 'vintage Vegas' vibe to the slot, it combines the perfect amount of excitement, but without getting too in-depth with various game features. You won't find this game cluttered with special bonus features, Wilds and Multipliers (although, of course, we love these!), but rather a straightforward game without any fancy gimmicks. Most notably, players flock to this slot because of the sizeable progressive jackpot, with the amount having the potential to climb sky-high (until someone makes a win!). It is the poster child for the classic slot games we all know and love, and after this big news of a jackpot win, we have a feeling it will be growing even more in popularity.
With only one payline and three reels, this game very much resembles the old school slot games you'd spot in one of those classic casino movies, when the stars would spend their time, playing away, smoking cigarettes, in typical old style casino fashion. Not only does Sevens and Stripes offer the chance for players to win the progressive jackpot, but it also provides a standard jackpot, depending which version of the game you choose to play.
When playing Sevens and Stripes, the ultimate goal is to score the combination of a red 7, blue 7 and white 7, lined up beside each other on the reels. Depending on which of the two versions you are playing on, this combination will make you the winner you always dreamed of being, whether that be with the progressive jackpot, or the standard jackpot. Whichever the case may be, your life will change that day! Considered a very "meat and potatoes" type of slot game, you won't need to focus too much on the details or mechanics, but rather, being able to keep it simple will allow you to focus on winning - or not, depending on your belief around the concept of "luck"!
Planning your next vacation yet?! If this great news is getting you excited for the future to come, go ahead and get in the game! As you know, you can't win if you don't play, so go ahead and grab a bonus with us and see what the cards have in store for you! You never know, you could be heading to the sunny Caribbean sooner than you think!