Looking for your next underwater thrill, with plenty of bonus opportunities to 'fish out'? Then you'll be more than happy to try out our newest release for the month of February, our new game, Megaquarium, released on February 15th, 2017! This great game may not take place under the sea, literally, but you'll definitely require proper scuba gear if you want to enter this massive aquarium of bonus fish, special features and a most impressive two Progressive Jackpots! If you thought the underwater world was just seaweed, cute fish and the occasional shipwreck, you were wrong - there's plenty more to discover when you dive deep down under (including our pre-release game bonus!).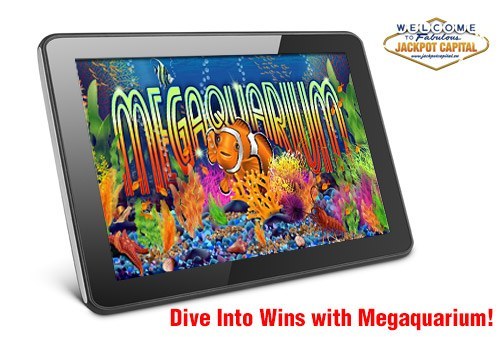 Dive Into Bonus Wins with Megaquarium!
Bright tropical colors, the outside light reflecting on the coral reef, the many schools of fish swimming swiftfully in the blue waters; it's a real Caribbean dream, come true! Our new game Megaquarium leaves much up to the imagination, which makes for the perfect time to jump in the water, get wet, and do some serious exploring. This new slot game, created by Real Time Gaming, combines the light-hearted slot theme that players love, adding to it a more important factor: plenty of special bonus features and progressive jackpots, which players also love (imagine that!). Playing this adorable slot won't necessarily make you feel like a kid again, but you'll certainly re-live that urge to discover, as you just never know what 'adventure' you'll trigger next - and how much bonus loot you'll receive for doing so!
This aquatic adventure starts off simply enough, a soothing experience where you may reminisce of sitting right inside an aquarium, watching the fish go by and living a life so different from ours. The whole experience with this slot is a relaxing one, which we can appreciate, but once you hit your first bonus win or trigger, the energy is up at all-time high levels! Watch as the reels spin, with the clown and angel fish turning the reels, and see what 'great catch' will come your way. You won't be catching fish, though, you'll be 100% set on catching those bonus opportunities! Most notably, you'll want to pay attention to a special feature in Megaquarium, where the bonus symbols are added to each final spin, extending the win potential in both the regular play, and once you enter one of the many bonus rounds!
Our new game Megaquarium operates with 5-reel and 50-paylines (fixed), and if you spot that cute clown fish, you'll want to pay attention. The clown fish symbol acts as a doubling Wild on reels 2 and 4, substituting for all symbols, accept the Bonus symbols. When this clever clown fish is found in a winning line, all prizes are doubled, giving you more bonus prizes and a potential 'new friend'. While this clown fish is an important symbol, it won't be the only one you'll want to keep tabs on! The Scatter symbol takes form in 5 different symbols: Free Games, Bonus Games, Super Games, Mega Games and an Extra Game, making up some very rewarding bonus features!
Once you start spinning the reels, making those fish work hard for the game, keep an eye out for a "Free Games" symbol on reels 1 and 5 - if you manage to land this combination, you'll be rewarded with 7 free games! And that's just the beginning. During the free games, all prizes will be doubled, and if you see the "Bonus Games" symbol during the 7th final game on reels 1, 2 and 3, the Feature play is extended! If you're luck enough to witness this take place, you'll then continue on to the Bonus Game Extension, where an extra 3 free games are awarded, with reel 5 containing all Wild clown fish symbols for the remaining time.
On the 10th free game during the Bonus Game Extension, you'll then want to keep a sharp eye out for the "Super Games" symbol on reels 1, 2 and 3. If you manage to make this combination, you'll then extend the Bonus Feature even further, while also collecting random prizes between 2 and 100 times your bet after each Bonus Game. Did you manage to land those 3 "Super Games" symbols? Great work - you'll then receive another 3 free games with a 5x Multiplier for all of the remaining games. On the 13th and final game of this feature round, you can move into the next level if you land "Mega Games" symbols on on reels 1, 2 and 3. See the pattern here? You'll also be awarded a random prize of between 3 and 200 times your bet, after every Super Game played.
Lastly, if you manage to make it to the "Mega Games" feature, you'll receive another 3 free games, where reels 4 and 5 are completely covered in Wild clown fish, boosting your bonus potential even higher. You also have the chance to extend this feature, with "Extra Game" symbols added to reel 3. Look forward to that prize after each game - you'll receive a random bonus between 5 and 500 times your bet! If you make it that far in this thrilling bonus feature, you can bet this will be your lucky day!
While this massively entertaining sequence of bonus features are enough to convince us that this slot is as thrilling as it sounds, we left the very best of this slot to the last. Our new game Megaquarium offers an impressive 2 Progressive Jackpots, both a Major and Minor Jackpot! Either can be won randomly at the end of any game, and given the already-exciting features of this slot, you just never know - one of these jackpot wins could happen to you! If this wasn't enough for you, keep reading, we have a special pre-release bonus for you to enjoy, before this slot launches, February 15th!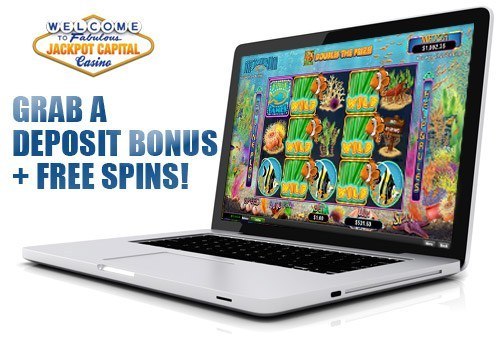 Start the Underwater Adventure with a Pre-Release Bonus!
As you may be familiar with, every month when we launch a brand new slot game here at Jackpot Capital, we offer both a regular and VIP bonus to all of our eager players out there! With our new games only growing in popularity (and same with the bonuses!), we now want to give our players a bit of a 'teaser' for what's to come, which is why we now offer a special pre-release bonus! Get your daily dose of entertainment and bonus cash without the wait, which also gives you the perfect excuse to brush up on your gameplay, anticipating the soon-to-be-launched new game!
Enjoy this special pre-release bonus, valid only until the new game launches (February 15th!)
| | Bonus: | Valid: | Coupon Code: |
| --- | --- | --- | --- |
| Pre-Release Offer: | 50% up to $300 | February 6th - 14th | GETWET |
Does this get you motivated to jump out of those winter clothes, into your swimsuit and ready for Megaquarium?! Perhaps that assumption is a bit far-fetched, after all, it's still below zero - but no worries! You can stay indoors, grab your mobile and surf on over to our fantastic mobile site, grab this pre-release bonus, and have some fun!
Be sure to keep watch on your email, as well as your Message Center here with us, come February 15th, we'll have a new game bonus ready for you to try out on this thrilling new, bonus-packed slot game!