When it comes to most games at Jackpot Capital, a big component is random chance. Even when it comes to Blackjack - where some strategy is involved - the cards still fall where they may. That's just one way this bonus game so excitingly unique. All it takes is focus and skill - no luck involved!
Play the exclusively in-house EASTER EGG HUNT once per day from April 15 - April 21 to win up to 162 FREE SPINS and $2,350 in FREE MONEY!
If you're old enough to play at the casino, you're probably not waking up to an Easter basket full of goodies. So we decided to make a game that can fill your basket - AKA bankroll - with the sweetest treats of all - free spins and money!
You can win extra spins for 7 different games during this 7-day promotion. You can also win thousands in free money that can be used anywhere in the casino - talk about an Easter bunny visit!
The object of the game is simple: collect at least 10 eggs in the EASTER EGG HUNT to win the daily bonus once a day for one week. But don't think it's too easy! If you hit an obstacle before you reach 10, the game is over. Thankfully, you'd have tomorrow to try again!
Are you ready to hunt some eggs? Read on to find out how it works and what prizes we're hiding in the grass!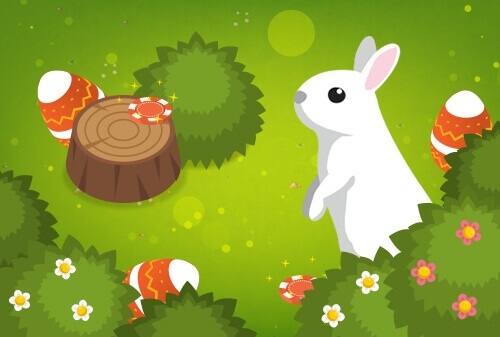 Collect eggs. Avoid obstacles. Win your bonus!
There are two different ways to play the EASTER EGG HUNT - one is on mobile, the other on desktop.
If you play the desktop version, you control the bunny using the arrow keys. If you play on mobile, you tap the screen in the direction you want the bunny to go. For example, if you want it to go up, tap just above it. If you want it to go left, then tap the screen just to its left!
Otherwise, the game is played exactly the same - no matter what device you're using! And you've ever played the old-school arcade game SNAKE, you have a good idea of how this game works.
Here's how: direct the bunny to collect the first egg, and it'll be added to the back of the bunny, creating a train of eggs as you collect more and more. Not only do you have to avoid the fencing and other obstacles - like rocks and shrubs - you can't let the bunny run into the line of eggs either! If you do, the game is over – so you'll have to try again the next day!
But if you do collect at least 10 eggs, then you win one of the bonuses! Which one depends on the day, as you can see below:
| | |
| --- | --- |
| DAY | BONUS PRIZE |
| April 15th | 17 Free Spins on Lucky 6 |
| April 16th | 75% up to $500 + 30 Free Spins on Purrfect Pets |
| April 17th | 50% up to $600 + 20 Free Spins on Enchanted Garden II |
| April 18th | 15 Free Spins on Cash Bandits II * |
| April 19th | 100% up to $500 + 10 Free Spins on Sweet 16 |
| April 20th | 75% up to $750 + 20 Free Spins on Cleopatra's Gold |
| April 21th | 50 Free Spins on Hen House * |
Whether free spins, free cash, or both, you can win a lot in this EASTER EGG HUNT. There's even a mystery prize for any players skilled enough to grab the casino chip, which will randomly appear over the course of the whole promotion - and it can only be won once!
Check out those games too! The LUCKY 6 Slot can pay out 50,000x a line bet. PURRFECT PETS has TWO progressive jackpots! And the bonus feature on CASH BANDITS II can trigger 190 free spins with prizes multiplied by 17.
We could go on, but you get the idea - there's a ton of winning potential!
And all you have to win it all is to play the - absolutely free - EASTER EGG HUNT!
The band is getting set up! Head to the Jackpot Capital cashier with the coupon codes above to get your bonuses, then let The Mariachi 5 you're ready to start by placing a bet - every single win you'll make is music to their ears! But like all the best parties, the offerings above will expire soon!