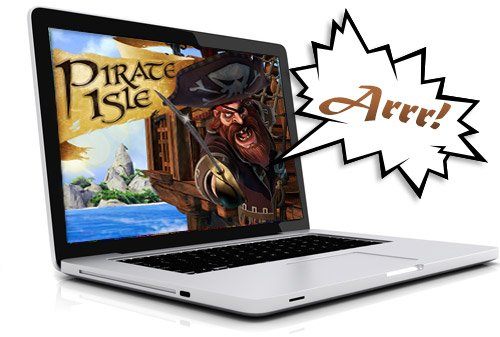 Whether you have childhood memories of dressing up like a pirate, alongside Long John Silver, fighting with swords and sailing the deep waters, or if you imagined yourself as a creature of the sea, a mythical and beautiful mermaid, our new game announcement this month will surely please you! This month is all about an 'Under The Sea' theme, and to celebrate, we have both a brand new slot, Pirate Isle, and the just launched on mobile, Mermaid Queen; there's definitely something for all creatures of the sea this month!
Sail Your Way To Riches With Pirate Isle!
Pirate Isle, a brand new 5 reel 25 payline Download/Instant Play slot game by RTG, brings all of the thrills and riches you'd expect from the misfit characters of the sea (after all, haven't you seen Pirate of the Caribbean?!). This game heavily promotes a fun, light atmosphere while you experience the many winning potentials, all thanks to the very generous 2 bonus features!
Sail over to Ghost Island and start collecting Treasure Keys… bracing yourself when you manage to collect a total of 5 Treasure Keys! Why? Because you will be rewarded up to 300 Free Games, making your pirate riches anything but modest! Throw in an extra bet, and activate the Broadside Feature, reaping even more riches in the form of big bonuses!
Naturally it doesn't stop there; every pirate has to find his buried treasure, after all! And what a treasure this is… it's the Pirate's Treasure Progressive Jackpot! This means (almost) endless rewards, gold by the heaps, all the while, chuckling with your mates, sailing through the deep sea. Not a bad way to spend an afternoon, right (and you'll collect CompPoints, too!)?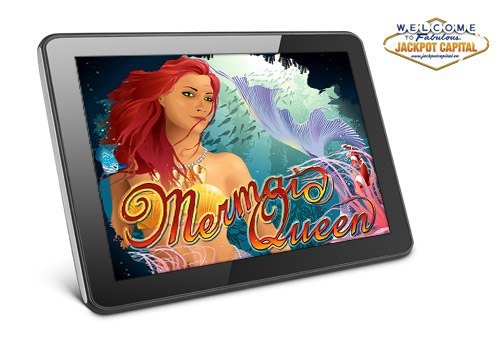 Mermaid Queen Goes 'Under The Sea' - On Mobile!
Our favorite Mermaid-themed slot is now officially available on mobile - Mermaid Queen! This is certainly cause for celebration, as the 5 reel 20 payline slot from RTG has been a huge success with players - and no wonder, considering the amazing bonus features!
If you need a reminder, do you recall gathering those scattered clams from the sea floor? Those basic treasures will multiply all of your winning combinations, and don't forget that if the mythical mermaid appears on a winning payline, you double your prize! Easily grab 10+ free games too, just spot that Mermaid Queen on reels 1, 3 and 5!
Continuing on our very obvious sea theme, let's remember the Mermaid Queen's progressive jackpot! That, if anything, is certainly worth the dive into the deep sea - you just won't know what's in it for the win if you don't! All this magical action, right on your mobile; your next boring bus ride could have you in a Ferrari in no time! And, as usual, you'll be collecting CompPoints the whole time, bringing you even more freebies from Jackpot Capital, while following all of our latest promotions for new games! Not too bad, right?!
Get 'Under The Sea' this month with these two amazing slots - and make it rain with Jackpot Capital!