Do you have what it takes to collect sheriff badges? Because that's one of the best ways to make payouts in TRIGGER HAPPY! That's right – you're an outlaw cowboy on this Slot from RTG, where you leave morals at the saloon doors and take a Wild West town for all its worth. Join the Redhead and Blonde Cowgirls, both ready to help you bust into the bank vault - and clean it dry. These women came packing some serious heat too, which inspired us to offer you some ammo of your own - with EXCLUSIVE BONUSES, every sheriff within a thousand miles can try and stop you…while you just laugh all the way to your hideaway!
But this five-reel, 30 fixed payline Slot isn't all about the theme and the characters. You'll find TWO PROGRESSIVE JACKPOTS, one Major and one Minor. Both can be awarded at random at the end of any spin - whatever the wager! Plus, there's 5 BONUS FEATURES! That's so much winning potential, it's no wonder there's more black hat cowboys than white hats.
If you like to ask before you take, TRIGGER HAPPY ain't for you. This is a game for gunslingers and outlaws, for saloon gamblers and train robbers. It's for everyone who wants cash while having the most fun a cowboy can have. Are you ready for anything? Good.
Take over the town. Take all its money!
You'll notice a lot when you first enter this Old West Slot. TRIGGER HAPPY features stunning characters and an immersive setting as well as two different Progressive Jackpots. Set your wager to whatever you like – whether the minimum or the maximum, you'll have 30 chances to win up to 500x line bet multipliers, each of which pays out separately. So the bigger your wager, the bigger the payouts!
Once you decide on your bet, the game can begin. The spin of each reel will remind you of a freshly reloaded Six Shooter, the animating symbols and background art bring you right into the days of 1800s Dodge City, and the consistent wins keep your heart pumping from the moment you ride into town until you're riding off into the sunset - saddlebag filled with gold coins!
The two Cowgirls are the Substitute symbols. During regular spins, they replace other symbols to create bankroll-filling multipliers. They can't take the place of the Sheriff Badge Scatters, however, which are a-whole-nother campfire story:
Sheriff Badge Scatters pay off on the whole wager, not just your bet per line. And when three or more appear - anywhere on the reels - they trigger the TRIGGER HAPPY BONUS. In this specialty free spins mode, the Substitute Cowgirls DOUBLE all wins…but you have to choose which one first!
It's true – you're given a choice between the Blonde or the Redhead Cowgirl. Go with the Redhead for her to either become an additional Scatter or to cover all of Reel 1. You don't know which of the two you'll get! Or you can choose the Blonde, wherein she'll cover all of Reel 5 or cover Reels 4 and 5. It's selected at random!
PRO-TIP: If you love the Scatters - go with the ginger. If you prefer the Wilds, your best bet is to choose the cowgirl with golden hair. No matter what, getting three or more Scatters again means five more games are added!
That's four potential bonus features…but we said five. So where in tarnation is the fifth!? Hold your horses, partner, because there is indeed the LUCKY FEATURE that's triggered the same was as the Progressive Jackpots – completely at random at the end of any game!
It could simply be the Trigger Happy Bonus again. But it could also be the Lucky games. For this feature, you'll get between 5 and 10 free spins. That's it! Just an unexpected little bonus that you can use to win more - during this mode, you can also unlock the Trigger Happy Feature!
Basically, the Lucky games is like when you break open a safe to take all the cash inside, and among all the cash, you find a map to a goldmine.
RTG has done it again with TRIGGER HAPPY. It's exciting, winning, and has incredible payout potential. Plus, it's almost as fun to look at as it is to play on Mobile, Download, and Instant Play! Due to the unrivaled quality of the graphics, we always recommend the biggest possible screen, but there's also something particularly cowboy about playing TRIGGER HAPPY while on the go - no matter where you are, you can take every dollar in sight!
If you're ready for the action, jump in and play now! Or, you can lasso up these LIMITED TIME BONUSES - free money that'll make you the most fearsome player in Old Tombstone, Arizona, guaranteed…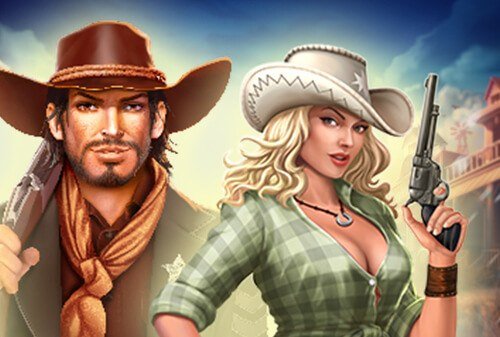 Make off with your free money!
What if you rushed into a bank - made them open up the vault - found big ole sacks of cash just waiting to be taken…and then you just walked away? You would have come WAY too far to do that!
That's exactly the case with these LIMITED-TIME TRIGGER HAPPY BONUSES! In fact - not grabbing them right now might be a mistake, since the sheriff could rush in any minute! Either that, or they'll expire. Don't let them get away!
Load up on these Bonuses - make sure you're ready for anything - and start collecting your bounty on the TRIGGER HAPPY Slot. The Cashier is waiting to hand over all the free money above - the Blonde and Redhead Cowgirls are waiting to help you profit - and the two Progressive Jackpots are waiting to be hit - by anyone - at any moment!