A villain with ninjas. A love interest. And lots and lots of money. If that's not a recipe for a high-octane action movie, then it's certainly perfect for a Slot theme. FIRE DRAGON is now available at Jackpot Capital, a martial arts Progressive Slot that's one of many in our constantly expanding Casino Lobby.
The moment you play, you'll immediately recognize Jackie Chan, his animated-self reprising a classic role from Hong Kong cinema, featuring the Master saving the world one high kick at a time. Enjoy 50,000x multipliers, a massive progressive, a free spins bonus game, and more nonstop action by playing right now – or kick things up a notch with these Bonus Offerings.
Free money is like ninja stars – they make getting what you want that much easier.
Do you enjoy thrilling adventure and placing bets to win a lot of money? Of course you do! Are you a Jackie Chan fan? Who isn't! The FIRE DRAGON Online Slot has so much excitement packed across the reels, there's not a dull moment every time you place a bet. You could win $50,000 on a single line bet, and you could win the Progressive Jackpot, which is only climbing higher and higher – right now, as you read this!
At Jackpot Capitol, you'll find the FIRE DRAGON Online Slot is cross-compatible and tied to some of the most jaw-dropping bonuses this side of the Pacific Ocean. Will you fight alongside Jackie Chan armed with free money? It's the best way to jump into the fray and start taking money away from those who don't deserve it – evil ninjas – and give it all to someone who does – you!  
Defeat the bad guys. Take their money!
The FIRE DRAGON Online Slot's martial arts theme involves Jackie Chan himself, but also a couple of other Hong Kong cinema legends, including the beautiful Tien-Lang Li and Tony Leung Ka-Fai (he won the Hong Kong Film Award for Best Actor five times!) To put that into perspective, the international megastar Jackie Chan has never won one (though he has won just as many in the other categories, including Best Action Choreography, of course!) During the game, you'll see Jackie striking one of his well-known, action-ready stances, giving you the confidence you need to get the wins flowing in – while keeping the bad guys at bay.
The Basics: On FIRE DRAGON, your total wager is determined by your bet per line and the number of lines you play. Your goat: trigger multipliers that apply to the individual paylines, not the total wager.
So the higher your bet, the higher your payouts - and the more lines you play, the more chances you have to win!
The 20 paylines of the FIRE DRAGON Online Slot go across the five reels from left to right. The goal is to line up the right symbol combinations in the hopes of a payout that's higher than your wager. But the ultimate goal? Landing one of the TWO JACKPOTS!
The PROGRESSIVE JACKPOT above the reels will continue growing as you and others play. Completely at random - and not determined by any symbol combination - it can be triggered and won by anyone. If you think this Slot is exciting on its own, all that heart-pounding fun is crowned by an ever-increasing Progressive Jackpot - and you could very well be the winner!
A bit more strategic is the 50,000x FIXED JACKPOT, which applies to your line bet. That's why determining how much you're betting per line is so important: if you bet $0.10 per line and hit the jackpot, you'd win $5,000. But bet $1 per line, and you can win $50,000 instantly.
Even a movie star would be floored by that payout!
Jackie Chan is the Substitute symbol. When he shows up, he's not just a familiar face ready to fight for your money – he can also replace any other symbol except for the Ninja Mask Scatters to create winning payouts. Get a bunch of Jackies on the reels - see massive multipliers fill your account!
When three or more Ninja Mask Scatters appear, it seems like a bad thing at first – instead of a multiplier that applies to your full wager, Ninjas slide down on ropes from somewhere above the Progressive Jackpot number, throw smoke bombs, and disappear. It's exactly what you'd expect from a Ninja…until the smoke clears, that is:
Then, you'll be in the 10 FREE SPINS GAME, which can be retriggered again and again if three or more Ninja Masks appear during the bonus mode. Imagine the collection of winnings after one, two, three, or more bonus spin retriggers! (You might be able to afford a place in Beverly Hills and become Jackie Chan's neighbor.)
Are you ready to face danger while sweeping in the bucks? Start playing FIRE DRAGON now on Mobile, Download, or Instant Play at Jackpot Capital. No matter which you choose, you'll be immersed in exotic adventure, riveting action, and insane winning potential – all in the company of one of the world's biggest movie stars of all time.
Or you can take advantage of COUPON CODES, with free money and spins that make fighting your way to success that much easier: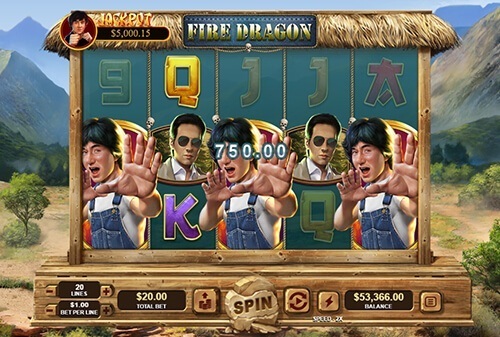 Grab our New Game Bonuses before the ninjas grab you!
Jackie Chan can transition from armed to unarmed while fighting off an infinite number of enemies. But let's be honest: he almost always stands a better chance with a weapon in hand. Unfortunately, he's going open-palmed for this adventure, so you're have to be the one who comes extra prepared!
Pin down these Jackpot Capital Coupon Codes – only available for an extremely limited time! – to be the partner Jackie needs - and the winner you want to become:
What's more exciting, the two jackpots of the FIRE DRAGON Slot or a Jackie Chan movie? No need to choose – you can now experience both at the same time! Grab the bonus(es) above, keep a close eye on that progressive, and tell the action-comedy legend that Jackpot Capital said, Hiya!