Welcome to the year 2017! This is our first official blog post of the new year, and all of us here at Jackpot Capital can't wait to have a successful year with all of you! As a way to spice it up and make a positive change for the New Year, we will now start a brand new blog topic for every first Thursday of the month: Famous casinos around the world that allow us to live the Las Vegas Lifestyle! Isn't that what it's all about?! You'll find out about all of the extravagant perks that come with visiting these various places, and if you feel the need to 'getaway', just grab your mobile, pick a bonus from our Promotions page, then get in the game! If you're soon to plan the ultimate casino vacation, this will surely be a helpful guide! To start the year off, we're sticking close to home and profiling the MGM Grand Hotel & Casino, positioned right in the center of Las Vegas!

Live the High Life in the MGM Grand Casino!
For any casino fans, players or avid travelers out there, it's likely you've heard of the MGM Grand Casino & Hotel! It's known as one of the most popular casinos in the entire world, with the third largest hotel on the globe! Not only is the hotel more than something to brag about, considering its size, but the gaming floor at the MGM Grand Casino is also one of the largest in the world, measuring at 171,500 square feet! Now that's a lot of games!
Once you find yourself on the gaming floor, you can enjoy 139 different tables for Poker, Blackjack, whichever game you're after to have a great time. If slots are more your style, you're in 'luck' (pun intended), because the MGM has a whopping 2,500 machines! Bet anywhere from 1 cent to $1,000, with the possibility of winning up to $500,000, which is more than impressive if you happen to be the lucky one. Choose from many different progressive slots, video slots, video poker, multi game machines, the list, quite literally, goes on. If MGM does one thing right, it's entertainment!
And it's not only slots and table games they offer, either. If you're a sports betting fan, you'll also find an arena inside the gaming floor which provides the chance to participate in live betting on over 60 plasma screens! This takes 'game night' to a whole new level, that's for sure! In terms of what sports you can bet on, it's better to ask what you can't bet on - They offer just about every sport! Football, soccer, hockey, martial arts… There is truly something for every sports fan!
The MGM Casino is well-known for their Poker on the Las Vegas strip; they are known as being the $1-$2 No Limit Capital of Las Vegas. The MGM Grand Poker Room is the number one spot on the strip to play Texas Hold'em, with many ready-to-win men and women flocking their when they have the urge to play and partake in an exhilarating night out. To make this place even more appealing, the Poker room is open 24 hours a day, 7 days a week, so you never have to leave a game unfinished! It comes to no surprise, MGM even offers tableside massages in the early morning, for those who have been playing all night long, adjusting the atmosphere to be calm and tranquil. Of course, as it gets later in the day, the music ramps up, more people join, and then, the party's about to get started! If you want to have your own Poker Party without the travel, just play Poker with us instead - We are your Virtual Vegas!
To sweeten the deal, you'll find the MGM Casino offers Comps (Just like our CompPoints program!). You can earn points with them when you play your favorite slots, redeeming them for even more quality entertainment. What they call Express Comps can earn you plenty of additional benefits, as you can redeem them towards dining, entertainment, and accommodation, making your time there just that much more luxurious (if you could imagine!).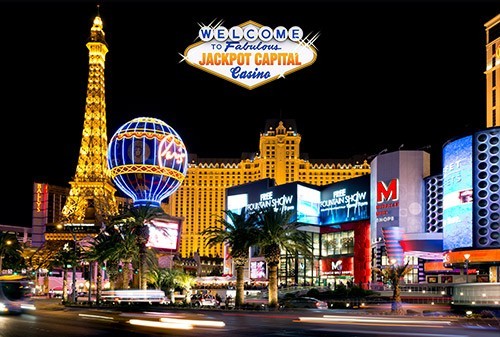 Lifestyle Outside of the Casino is 'Grand'!
For more excitement off of the casino floor, you can take a break and check out their Whiskey Down bar, one of their most well-known areas in the entire venue. You'll find over 50 whiskies from all around the world, plus a ton of unique cocktails, all whilst chilling out in a dimmed, classic and casual location. If you could imagine, being inside is almost like you stepped into a James Bond movie! Nothing screams 'high roller' more than James Bond!
And what about the hotel? Isn't this one of the most exciting parts of going to a casino, their built-in hotel? Not that anyone spends much time in the hotel (they're too busy playing and exploring!), but you must say, it feels good to walk into a 4-star hotel, flop into bed, run a hot bath, order room service, knowing you won't have to clean it up (mind you, you'll have to foot the bill!). Being the third biggest casino hotel in the world, you can imagine that the MGM Grand has a lot of options for luxurious accommodation, and that, it does. Book one of their many suites, or you can go to the extreme and rent one of their villas in The Mansion, a Penthouse suite, or one of the Skylofts - the largest is measured at 1,400 square feet! There's not much more a place can offer to let you live like a King or Queen!
If you're looking to change it up in terms of entertainment, you won't be disappointed, there's plenty more to enjoy! Check out one of the MGM Grand's many comedy shows, Cirque du Soleil, magic shows with David Copperfield, various dance acts, amongst many other shows that will keep you entertained for hours. If the nightlife is more your thing, you have a mass selection of clubs and bars to choose from on the property, hosting globally known DJs in all different kind of atmospheres. Enjoying the daytime sunshine? Then at some point you'll have to get out of the scorching heat - and may we recommend visiting Wet Republic Ultra Pool, where you can enjoy the music, the crowd, and of course, the pool! At some point in between all of this excitement, you most definitely have to take a moment to enjoy some of their delicious dining options - Not surprisingly, there's plenty of those, too. Dining at the MGM Grand gives you tons of options for all budgets, with over 20 restaurants in the resort. Bon appetite!
There's certainly no doubt that a weekend at the MGM Grand Casino & Hotel is nothing short of spectacular, and with such a variety, anyone can visit and live the life of luxury for a moment. The Las Vegas Lifestyle is all about living large, living extravagantly and most importantly, having fun. While it may be a once-in-a-lifetime experience to visit a place like the MGM Grand, that doesn't mean you can't live your own Vegas lifestyle, from wherever you are. That's what all of us here at Jackpot Capital want to bring to you - The Las Vegas Experience, right at home (or anywhere, on your mobile!). If you're looking for that next big thrill, join us here, anytime, there's always an entertaining bonus waiting for you!