Living the 'Las Vegas Lifestyle' is a life admired by many, as there is nothing more alluring than the thought of living in complete luxury, from the moment you wake up, to the time you make your way to bed - most likely at an early hour in the morning. Staff waiting on you, hand and foot, dining at the most delicious and exclusive restaurants, playing your favorite casino games in the most attractive venues imaginable, all of this and more encompasses the lifestyle we all hope to experience, at least once in our lifetime. Dreaming big is the crucial ingredient to getting what you want out of life, and you can rest assure, you can always 'dream big' with us. This month, as a tribute to our Las Vegas Lifestyle, we're taking a look at the largest hotel and casino resort in the entire world - The Venetian Macao Casino & Hotel, located in Macao, China! This may be a far reach from Las Vegas, but trust us, you've never seen the 'high roller lifestyle' quite like this!
Your Biggest Playing Field - In the World!
Did you know that The Venetian Casino & Hotel is actually the largest land-based casino in the world? It's true! And once you get a glimpse of what goes on there, you won't be surprised with this fact. The Venetian is one of the most stunning buildings in the world, an opinion held by many, and in combination with the experience you'll have here, there may not be any place more 'Las Vegas' than here - even if it is in China, on the other side of the world.
The Venetian is actually owned by the Las Vegas Sands corporation, and not only is it the largest casino in the world, but it is also the largest building in all of Asia, and the fifth largest building in the entire world (at 10.5 million square feet!). Based on these stats, alone, you can just imagine only the 'best of the best' go to play here. It's surely nothing short of magnificent. It may appear that this grandeur place has existed for many years, but in reality, it was opened in the year 2007. From the day it opened, many flocked here to see one of the globe's largest buildings - They reached their 8 millionth visitor in a mere 133 days after opening! While there surely are many activities you can enjoy here, we are most interested in the casino, also one of Asia's largest gaming floors.
Stepping into The Venetian Casino may take some prior planning - the gaming floor is so large, they divide it into four different areas for eager players to wander through. Naturally, a casino with such a high status would name the four gaming areas, right? Exactly. Going by the names of Red Dragon, Phoenix, Golden Fish and Imperial House, you'll find yourself on an (almost) endless expedition, exploring every corner, if you've got the energy (and nothing like a big win to keep you energized!). Perhaps it goes without saying, but The Venetian has a more than impressive amount of games to play. With over 3,400 slot games and 8,000 tables, there's simply no chance you'll ever be bored, rather the opposite, you won't want to leave! High ceilings, bright lights, incredible architecture; you may have to take a moment to breathe it all in, before you start the game (recommended!). Understandably, visiting Macao may not be the first priority on your 'To Do' list, so if you're after a few thrilling rounds of game play, whether it be slots or table games, you can always visit your 'Virtual Vegas' for a bonus treat (Oh look, you're already here!).
This 40-storey masterpiece of a building attracts the rich and famous from far and wide, so if you ever have the chance to visit, you'll want to keep your eye out for celebrities - there's most certainly some of them lurking the game grounds! If you, for some reason, want to find some game entertainment away from the slot machines, The Venetian also has a 15,000 seat arena for sporting events. Can it get any better than this?! Keep reading, and you can answer that one for yourself!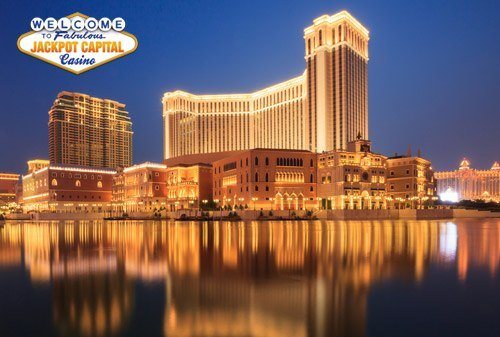 So Much More - Inside The Venetian Casino & Hotel!
Now that you have a clear picture on just how 'epic' this casino is, wouldn't you be curious to know what other goodies await you at The Venetian Casino & Hotel? If you weren't impressed already, and we're sure that you are, let's take a look at what else this landmark and entertainment hub has to offer. Whether it be shopping, live shows, dining, spa, or just the most luxurious hotel rooms ever seen, they've literally got it all.
With this resort offering so many extras, the only question is, where to start? In The Venetian's shopping area, known as the Sands Shoppes, you'll find over 850 brand name retail shops to browse through. We're not talking about just any brands, either, these are some of the most sought-after and quality brands in the world, so you may want to keep that in mind when planning your shopping budget! Actually, this retail complex houses many high brand outlet stores, so while it may be expensive, you can pick up some quality items for less than you'd expect. The shopping categories vary, with shops dedicated to both men and women's fashion, plenty of ridiculously 'rich' looking jewelry and watches, very high quality leather goods, cosmetics and skincare, all areas of interest for the true high roller. Continuing on with their mantra that 'bigger is better', the Sands Shopping ground is also the largest indoor shopping areas in Macao, which probably surprises no one!
And after all of this fun and excitement, eventually you'll get hungry, right? No problem. The Venetian Casino & Hotel offers over 30 restaurants on-site, with cuisines from all around the world. Of course, they have traditional Asian cuisine, whether it be International Asian food, Japanese or Chinese, or if you'd like to stick closer to home, they have a mass selection of Western dining options too. For those who may be planning an event at this masterpiece (we don't want to know that price tag!), you can hire their world-class caterers in their banquet hall, where you can seat up to 10,000 people to enjoy a 5-course meal. If you just want to keep it simple, there's plenty of 'quick eats' available, with a food court offering plenty of healthy, fast options, and more importantly, plenty of bars to make your way through. The Venetian may not require you to dress 'posh', but they do ask for a 'business casual' dress code - No flip flops!
If you're lucky enough to spend a few nights in their luxurious hotel, then you're surely in for a treat. The Venetian offers six different suite types, each one being more and more fabulous, letting you truly rest "like a King or Queen". King sized beds with the most exquisite bedding (hello, high thread count!), marble bathrooms, plenty of room to spread out and relax; you may find yourself in such awe, you won't even want to leave the room, itself! While you can certainly sit there and soak up the luxury, we recommend you venture through and explore! Amenities are almost endless, with multiple venetian pools, sand grounds, gondola rides through their lagoon, an impressive gym, mini golf, they even have a hospital on-site! For the parents out there, The Venetian Casino & Resort is very child friendly, making it a perfect spot for the next luxury family vacation.
The site that is The Venetian Casino & Resort is almost difficult to describe in words, it's a place so magical you just have to see it for yourself. Holding many records for its size and exclusiveness, many of us may never find ourselves gracing the property, but it surely gives us a certain motivation to dream, and to dream big. And that's what the 'Las Vegas Lifestyle' is all about - dreaming big! While we're all more than eager to jump on a plane now, heading straight for Macao, if that's not realistic, you have the next best thing right here, at your fingertips! Go ahead and start your next winning streak, grab a bonus from our Promotions page and crown yourself a 'Virtual Vegas' legend!