Your future winnings are now officially in the past! But no worries, because the hero of this game has you covered! CUBEE Time Travel Adventure is the brand-new and incredibly innovative Slot at Jackpot Capital!
Join CUBEE as he jumps through time warps, traveling from the Stone Age to the Era of Pirates to the Viking Age. All the while - you'll get more powerful - taking as much money as you can beat out of the bad guys. Literally! Then you'll make it back to Cubeeland, where all the FREE GAMES you've collected will be waiting - along with a few more very welcomed surprises!
The CUBEE Time Travel Adventure Slot is NOT your average game. In fact - it's probably unlike anything you've ever seen! You'll find NO REELS and NO PAYLINES! Instead, the whole board pays out, making the setup - a lot more - like a fighting adventure game that you'd play on a video gaming console than it is a Slot.
But make no mistake, CUBEE is still very much Slot machine - because it can win 0 as much as 50,000X YOUR TOTAL WAGER - on EVERY paid spin! And seeing as the bet minimum is $1 and the maximum is $20, a single spin can win you a MILLION DOLLARS. Here's how to play:
Beat the bad guys. Win all their treasure!
CUBEE Time Travel Adventure is exactly what it sounds like - and so much more!
The game begins in a cave during the Stone Age. Set your wager - then start at Level 1. On your right will be your rival - Rocco - who's dressed up to blend in with the time period – and needs to be destroyed!
When you press spin, different symbols will float in from the time warp - including enemies at various levels. You can defeat the enemies at your level or lower, collecting their energy orbs and growing in level yourself - which allows you to defeat even more powerful enemies and become even bigger and more powerful. As you play, you'll see Cubee - shrink/grow\shrink depending on what sort of enemies appear.
Meanwhile, a melee weapon will also come into play. In the Stone Age, it's a club, which will hit your rival and drain his health meter. Hit Rocco enough times while consuming your energy orbs, and you'll beat him into oblivion - and collect your payout…
Then you TIME WARP – finding yourself in the next location: The Era of Pirates. There's Rocco and his gang again, this time wearing pirate getups and meaner than ever. But so are you - you ditched the club, and you're using a sword now.
The object of the game is always straightforward: drain Rocco's health meter while defeating as many of his sidekicks as possible (beating Rocco just takes you to the next loction, consuming his teammates are where the money is!) In total, this game takes place across FOUR different settings!
After the Stone Age is also when the BOW AND ARROW MULTIPLIERS join the fight. When they appears, an arrow will shoot into your winnings multiplier - making it grow higher. You think those little monsters pay out good when the game first starts out? Just wait until you have a high multiplier run!
There's also the FREE GAMES CANNON - which sends a cannonball into your Free Games meter. Free Games are stockpiled as you travel from one location to the other. Once you get to your destination - Cubeeland - you use them all at once.
The final battle between Cubee and Rocco is in the Vikings Age. The fight heats up - the setting is perfect for the final showdown - and it's your last chance to build up as many Free Games Cannon blasts and Bow and Arrow Multipliers as you can!
The fourth and final phase of the CUBEE Slot takes place in Cubeeland. Here, you'll be rewarded for a conquest completed, which can be either a WIN, BIG WIN, MEGA WIN, or HUGE WIN. You can't know until you make it there!
Then all the Free Games you collected begin. During this mode, Rocco is nowhere to be seen, which means no more weapon symbols are shown. With no more weapons, there's plenty of room for those bad guys to stuff themselves across the board - giving you a lot of extra opportunities for a payout!
Once the Free Games are complete, the game is over – and you can start all over again!
This unique and innovative game ensures that there's never a dull moment, and it's available to play on Mobile, Download, or Instant Play. Get right to the action now without a second of delay - an insane adventure across space and time awaits! (Or scroll a bit further for some Exclusive Game Bonuses!)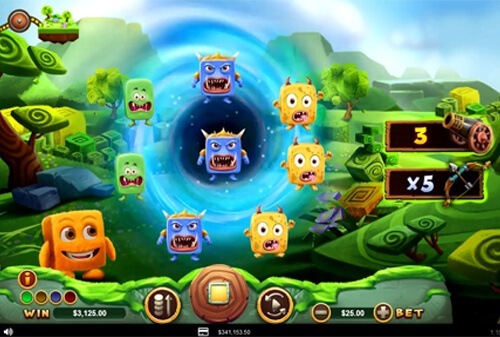 Beat on Rocco with bonuses and free spins!
The CUBEE Time Travel Adventure Slot pays out up to 50,000x on your TOTAL WAGER. So if you're not already, you can become a millionaire in a single spin. They say history is written by the winners - head to the Cashier, use these Coupon Codes, and start get your future winnings back from these time bandits: