Who's ready for a fiesta of fortune? Or maybe it's a payout party! Whatever you want to call The Mariachi 5, a brand-new RTG Slot available in the Jackpot Capital Casino Lobby, you'll be calling it a lot of fun. From the great music and vibrant graphics to the 5 bonus features and 2,000x total wager jackpot, it's a nonstop celebration!
The Mariachi 5 Slot is a five-reel, 243 All-Ways-Pays game, which means you always have the same chances to win - no matter what you bet! And it's made even more of a blast with these Bonus Codes - digital piñatas of stuffed with free chances to win!
But the bonuses leave when the party's over, so you'll want to claim them now!
Or you can keep reading to find out why else you should play with The Mariachi 5, a band of Los Muertos, who play their instruments all night long - while cash rains down on you like confetti! And once you trigger the bonus feature, you'll need to choose between one of the five members of the band - so you might want to go ahead and choose your favorite before you play!
Play with the band. Win as much as you can!
Welcome to a festival of cash! Around every spin, there could be a piñata ready to burst open and cover the streets in winnings. Or a Wild symbol could appear - and DOUBLE your payout! In fact, both grouped substitutes DOUBLE the win during the regular games.
Every moment you're playing The Mariachi 5, it's a party. The only rain you'll feel during this parade is a downpour of payouts. The band never gets tired, and they don't expect a tip either. They love to entertain AND tip the player! Talk about showmanship!
At any point during the game, you could trigger the Bonus Feature. When 3 or more Scatter Piñata symbols appear is when at least some say - the best party really gets started. And who could argue?
It starts with choosing one of the 5 band members. Don't worry - the others won't take it personally! Because - no matter who you pick - you could win one of 5 DIFFERENT FEATURES:
Think choosing your favorite musician is hard? Just trying choosing which of these bonus rounds are the best! Every time you trigger the Feature, you can trigger:
15 Free Games + 2x Multiplier
12 Free Games + 3x Multiplier
10 Free Games + 4x Multiplier
8 Free Games + 5x Multiplier
5 Free Games + 8x Multiplier
Whichever one you get, you have a ton of winning potential during this feature. But the Wilds pay out double only during regular games - so every spin is always packed with serious payout promise!
Do you love good music? Betting on the slots? Immersive settings brought to the next level by spirited graphics? Huge winning potential? A variety of bonus features?
If you answered yes to all of those questions, then you're ready to get the party started! Play The Mariachi 5 on Mobile, Download, and Instant Play right now - or get in on these ridiculously lucrative bonus offers!
We wouldn't blame you one bit for rushing to the party. You could always make the band stop playing and come back to claim them if you'd like. Or you can BYOBonuses to the street fest of big wins - just use the codes below!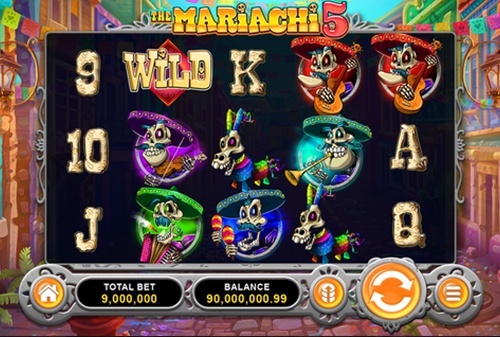 Bring your own bonuses for free chances to win!
No one wants to show up to a party emptyhanded - so don't!  Below, you'll find a total of 125 FREE SPINS and $2,105 in bonus cash. There's a lot of money to be won when you start "hitting the right notes" on The Mariachi 5 Slot. Take these coupons to the game, and those piñatas won't even know what hit them!
The band is getting set up! Head to the Jackpot Capital cashier with the coupon codes above to get your bonuses, then let The Mariachi 5 you're ready to start by placing a bet - every single win you'll make is music to their ears! But like all the best parties, the offerings above will expire soon!