Are you ready to bend space and time? On this extremely innovative "Slot," you become CUBEE, a furry, time traveling treasure hunter that BATTLES FOR BYGONE ERAS against your arch nemesis - Rocco - and his gang off surly thugs.
Who knew the Stone Age, the Era of Piracy, and the Viking Age needed saving! But in the CUBEE Time Travel Adventure Slot, they do. And the more times you defeat Rocco throughout the ages - by leveling up, powering up, and collecting weapons to bash him for all his money's worth - the more cash you win!
This game has NO REELS or NO PAYLINES. Yes, you read that right! So should we really call this the CUBEE Slot? It's more like a fighting game, the kind you play on a video gaming console - except better, because you can win money. However, the setup is familiar in that you choose your bet - which pays out on the whole gameplay area - then click spin to begin every round.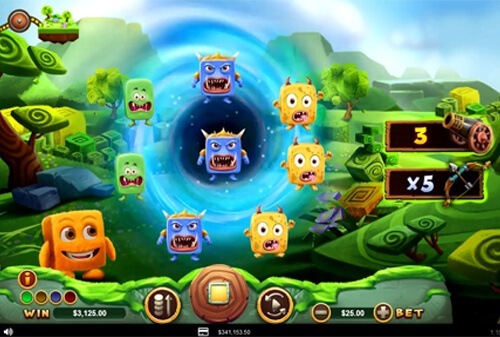 You begin in the Stone Age, where the CUBEE Time Travel Adventure Slot pits you against enemies that can only be defeated IF you consume energy balls that put you at their level - or higher. But don't worry, you start at level one, as do some of your foes. And the more enemies you defeat, the higher your payout!
Meanwhile, the energy bar above Rocco is his health meter. When - melee weapons - appear (clubs, swords, etc.), they'll be used to hit him on the head and deplete his health. Drain it all the way down - and you move into the next era of time!
But if the - long-range weapons - appear, that's an entirely different story. The BOW AND ARROW will shoot your multiplier meter to increase it significantly. Just one shot could change your payouts from 1x to 6x - just like that! And if you see the CANNON, it will blast a free game your way.
The further you progress through the eras, the more powerful you become. But for EVERY SINGLE PAID SPIN, you have a chance at - a 50,000 times jackpot. With the wagers ranging from $1 to $20, you and CUBEE could return to the present with a life-changing $1,000,000.
You read that correctly too - CUBEE has ONE MILLION DOLLAR PAYOUTS!
After you beat, eat, and win your way through the Stone Age, the Era of Piracy, AND the Viking Age, you end up in Cubeeland. You won't see Rocco anywhere in sight - so you won't see any of those melee weapons around either - only the symbols that pay out - or boost you up. It's also where ALL THE FREE GAMES you've accumulated are played, so enjoy those as well!
Boy, isn't Cubeeland such a delightful place? And all the adventuring it took to get here makes the landscape all the more satisfying.
CUBEE is a game that's so extraordinarily unique - and out of this world - that any lover of Slots excitement should at least try it in free play demo mode. Few things are more entertaining - or have as much winning potential - as defeating Rocco, conquering opponents, and warping time on the CUBEE Slot.