It's the end of 2016, and what a year it's been! This has been, by far, an interesting year in the world, and many of us are eager for the new year of 2017 to roll in, making a fresh new start! The tradition of ending the year with a family-filled holiday like Christmas and beginning a new calendar year with new hopes, dreams and goals is something we all look forward to, and now that the day is almost upon us, we want to share our 2017 new year goals with you! Each year, all of us at Jackpot Capital online casino brainstorm new goals outlining how we can be an even better online casino for you to enjoy, and this year, it's going to be better than ever! We can't wait to enter this new beginning with you, and we hope you'll enjoy what we have planned for the year 2017!

Let's Make 2017 the Year of Great Gaming!
Have you sat down and made your 2017 new year goals yet? You still have time! Meanwhile, you can see what we've been up to with our goal planning, and see if anything we're doing will inspire you to take your own action! New year goals can come in many different forms. Last year, everyone here at Jackpot Capital made a long list of what we wanted to improve over the year 2016 (Check out the original blog post!), and with success, we hit every single target we made! A lot of this is thanks to you, our players, as you all gave us great feedback in how we can improve, and who better than to ask, but those who love to play with us?! Let's see what we've got coming up for the best year in gaming yet…!
1. 2017 is All About YOU!
Over the last year, we've had a huge positive response with our content and promotions that have put our players (You!) at the forefront. Throughout 2016, we have had many big winners at Jackpot Capital, and of course, we want to tell you about it! There's not many things more exciting than finding out you've struck the jackpot or made a large sum on your favorite game, and when it's at your favorite online casino, that's even better! We had some great winning stories over this year of 2016, and we want to be sure that going forward into the new year, we let you know about all of the great moments we share with our loyal players. Aside from just epic wins, we also had an amazing story this year, where we helped a player, Debbie, purchase a wedding dress for her daughter! It was a heartfelt story that we were so happy to be a part of (Check out the original post!)! For the year 2017, we will put a higher focus on this positive news we share with our players, giving you more winner stories, information about the best games, and, overall, more entertainment!
2. Live the Life of the Rich & Famous!
One of the most exciting things about playing with us here at Jackpot Capital, is that we are your 'Virtual Vegas', meaning you can experience the thrills and fun of the casino lifestyle without even leaving your home! Of course, you can also bring us with you, on the go, using our innovative mobile app on any of the different mobile softwares, making Jackpot Capital your go-to place for a good time. We aim to bring you the feeling of luxury, style and that winning attitude, and there's no place that exudes this better, than in Las Vegas. One of our 2017 new year goals here at Jackpot Capital, is to bring to you even more fantastic lifestyle experiences, and the best way for us to do so, is through our content! Looking into the new year, we'll be heavily focused on giving you more lifestyle tips and exciting information on the casino capitals of the world, furthering that feeling of 'the rich and famous'; now that is something to look forward to!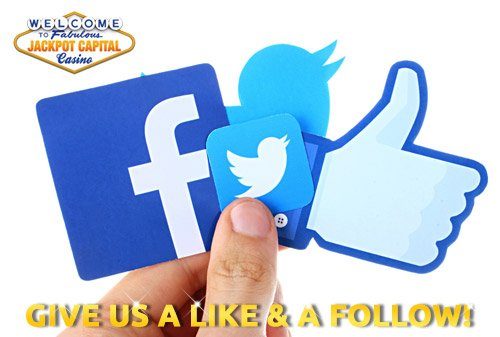 3. Jackpot Capital is Going Social!
As you may have noticed, over the last year in 2016 we have been active on our different social media channels, mainly our Facebook page and Twitter page (Give us a like and a follow!), bringing to you our blog updates, bonus promotions, exciting news from our team at Jackpot Capital, and more. As one of our 2017 new year goals, we want to up the efforts in the area of social, bringing you even more exciting content on our social media pages. Some of the ideas in the works, are to create special bonuses accessible only on our social accounts, more frequent posts about all of the exciting things we have going on, and much more (you'll have to wait and see!). We would love if you engaged with us there, just to let us know how we're doing, if you have a suggestion, or just want to stop by and say 'Hey'! Here at Jackpot Capital, we always want to improve with the popular trends, and being available to you on many of these popular platforms is one of them! 2017 is the year to be social and have fun!
4. We Want to Hear From YOU!
Last, but certainly not least, our final 2017 new year goal, is to get more feedback from, you guessed it, YOU, our players! We very much value what you have to say; how is your playing experience going? Do you enjoy our game selection? Are our bonus promotions exciting enough for you? Are you happy with the customer service? The list goes on! We think that we're doing a good job, however there's nothing more helpful than hearing feedback from the people who spend the most time with you - the players! We encourage you to reach out to us, whether that be on our Live Chat (just look to the right, and you can contact us immediately!), or our Facebook page and Twitter page! We're always happy to hear from you, so please, don't hesitate to get in touch!
The end of a year and the start of a new one is often a very symbolic time, both personally and professionally, for us all. We hope you're looking forward to an even better year in 2017, and here with us, this will be the year of great gaming! If you're looking for some fun, just take a look at our bonus promotions we have running right now - there's plenty of good times to be had before the year is over! Thank you for being a loyal player with us here at Jackpot Capital, and we wish you and your family a wonderful 'Happy New Year'! Cheers to a fun and successful 2017!