No matter what time of year it is, there's alway a good reason to have a party! The year is filled with tons of different reasons to party, whether that be birthdays, holidays, an anniversary, or just a plain enough reason like a Friday or Saturday night! What makes parties even more fun? Well, aside from copious amounts of food and drink, it always spices up the evening to give the party a true meaning - a theme! Here at Jackpot Capital we are your literal 'Virtual Vegas', and chances are, if you're reading this, you love the highroller lifestyle just as much as we do - not to mention, we're sure you love a night out at the casino! Maybe you have a party coming up that you're planning, or perhaps you want a good excuse for one, so let us help you out: Have a casino-themed fiasco! How can you do it without the massive budget? Easy, we'll show you!
1. Choose a Theme, Any Theme!
While, of course, having a 'casino night' for your next party is a theme, within itself, why not go the extra mile? Some of the most amazing buildings in the entire world are actual casinos (like The Venetian or The MGM Grand), all located in different places around the world - so why not get a little more specific? To start, you could certainly stick to the most traditional and create a 'Vegas' themed night. Take some inspiration straight off of the Vegas strip, ask your guests to dress up like their favorite broadway performer, or one of those 'typical' casino characters you may find on the strip (may we suggest referencing one of the hilarious characters from 'The Hangover'? That would be a good laugh!). You could also 'up the game' and make your night slightly more posh by doing a Monte Carlo-themed party, serving up hors d'oeuvres and having your guests come in their most extravagant nightwear! Creating a theme and even a dress code to go along with it can make any night a blast, and you can be as creative as you like! To take it a step further, you may even decide to theme your night after one of the many great casino movies! Make it into a game and have your guests guess which characters are in the room that night. The sky is the limit in terms of how extreme you make your theme, but one thing is for sure, there should be plenty of Martinis!
2. Time to Party!
Do you have plenty of great ideas for themes yet? Once you've made your decision, you can go ahead and get fancy with the invites! Of course, in this day and age, everyone tends to send out invites electronically, but why not go back to the 'old school' way and create the invitations yourself, delivering them by hand or in the mailbox (talk about taking a step back into time!). If you'd rather stick to the electronic method, there's plenty of free online designs you can use for the invitations, however if you want to get crafty, you can really have some fun with it! Check out your local dollar or craft store for those large playing cards that are often used by magicians or for kids, you can then use one side of it to address the party details. Sure, computerized invitations are easier, but just imagine the look on your guests' face when they receive a larger-than-life playing card with a personalized invite?! First impressions are key, and you can bet they'll be expecting one fine evening with a hand-crafted invite!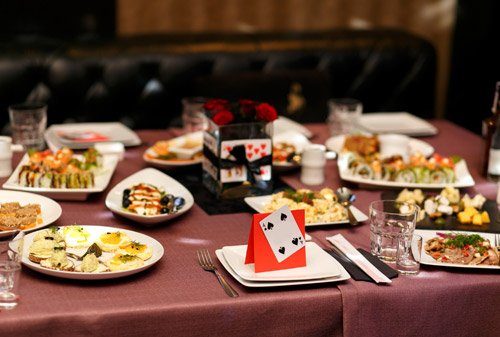 3. Hungry? Casino-Themed Foods!
No party is complete without… Food! Not only will you impress your guests with some amazing snacks and treats, but given the chance that alcohol is consumed, you'll definitely want some nibbles to keep your guests from getting too tipsy! Being a host or hostess is an important job, after all! There's no need to hire a caterer or spend a ton of money on fancy dishes, there's plenty of great casino-themed recipes that will both impress and be easy on the party budget. For example, making some simple sandwiches, cut into small pieces, in the formation of a gameboard of some type will look aesthetically pleasing and hopefully, taste delicious too! Take a look at the recipe we have found on Pinterest for the Sandwich Game Platter! Again, you can be creative and fill them with whichever you please - sweet or savory! Do you have any Martini glasses lying around? Use them for appetizers and fill them with a delicious salad or snack assortment, just take a look at our Martini Appetizers! For more of the sweet stuff, try making 'Dice' Cupcakes, a Roulette Roulade, or Poker Chip Cookies! Don't forget to serve plenty of Martinis!
4. Let's Play! (Games)
Of course, no casino night is complete without games! Chances are you may have a Poker set at home, and maybe even a Roulette wheel, which will come in handy for the big night. You can set up these games throughout the party space, and if you really want to turn up the heat and impress, you could ask a few friends to help you out by being the croupiers! That will really add a high class sparkle to the night. Luckily, for convenience sake, most of the popular casino card games only require a deck of cards, so you won't have to worry too much about purchasing various games. Even if you are without a Poker set or Roulette wheel, ask around amongst your guests - chances are if you don't have one, someone else will! Even board games like Backgammon would sync well with a casino night, so you're not limited to only the traditional games (Bingo, anyone?). Jazz up the playing atmosphere with some upbeat music, fancy lights (Christmas lights can do the trick!) and plenty of games.
5. Congratulate the Winners!
While this extravagant night is simply for some good old fun, everyone likes to walk away a winner! Once the fun-filled night comes to an end, you may want to give out some party favors to your guests, to thank them for coming and making the casino night such a success. There's plenty of ways you can reward your fellow players. Perhaps you opt to play for 'fake' money throughout the night, meaning you can use literal fake money from a craft store, or simply accumulate points with Poker chips. Or, for the winner of each game, you could pick up some silly trophies from a party store or otherwise, just as a fun piece of memorabilia. Perhaps you decide to play for real money and keep it straight and simple? That's great too, just make sure your guests are aware of the guidelines. Another option for playing with real money, is you could create a 'fundraiser' out of the night, where all of the winnings go towards a charity or organization of your choice. Whether you want to stick to a low budget or go big, you have plenty of options!
Creating your very own casino night will take some planning and preparation, but it will surely be a night your guests will never forget! Given the fact that a regular night out at a casino will cost you, creating your very own casino night at home will likely be much more affordable for all, with the same amount (or more!) fun! Get those ideas flowing and see what you can come up with! The sky's the limit in terms of creativity, so go wild and let your imagination run free! Need a bit of inspiration for your big night? Go ahead and grab a bonus to play one of your favorite games, then get busy planning your next big fiesta!